CANCELLATION: As part of the mobilization against the pension reform, the public opening of Latifa Laâbissi and Antonia Baehr around their next creation "Colors and Numbers" will not take place on Thursday March 23 at 7 p.m.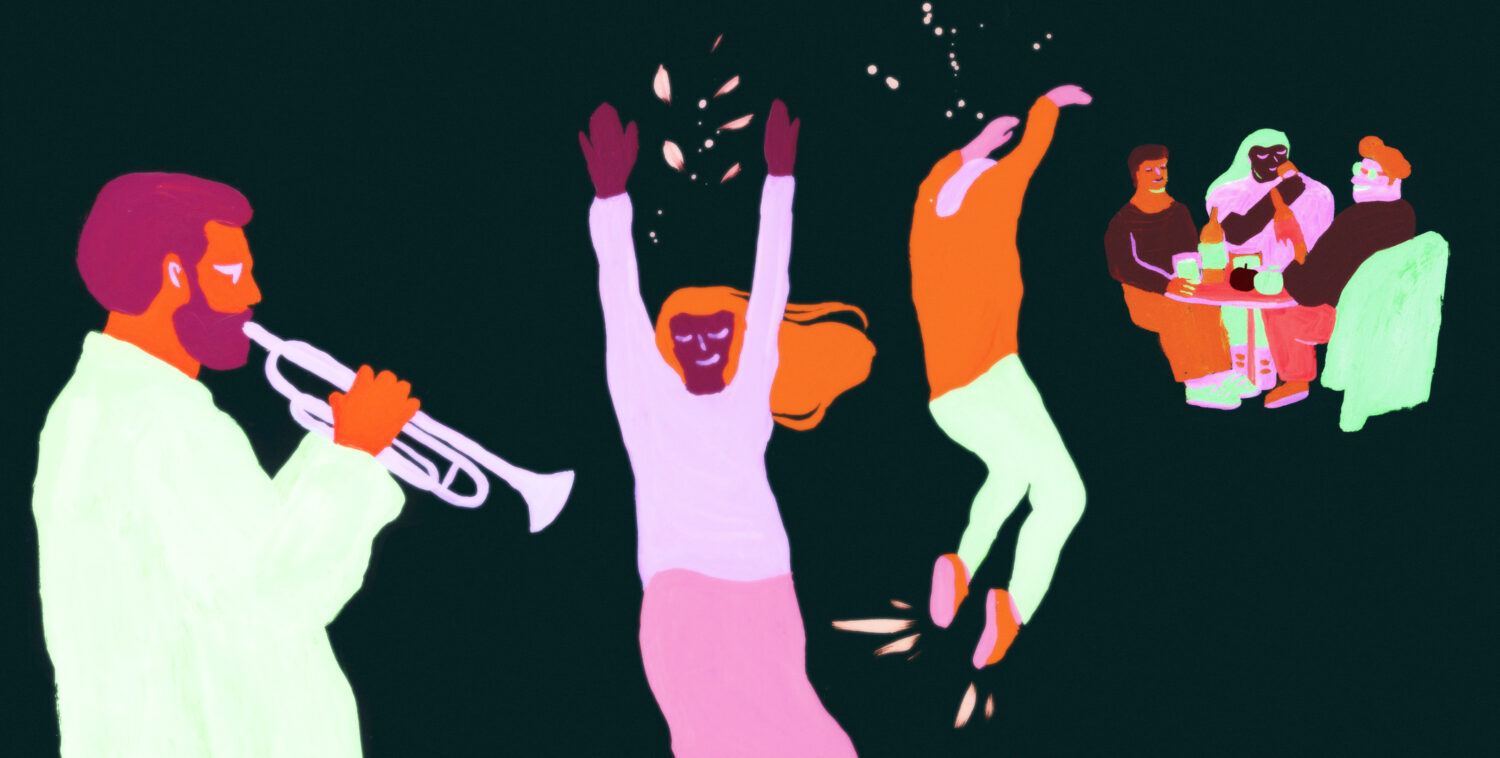 Dance & Cider
Interdisciplinary projects
The CCNCN invites you to an artis­an cider tast­ing event where dan­cers will per­form pieces inspired by these dif­fer­ent types of cider, for a sweet start to the new year.
After the Wine and Dance event in Novem­ber 2021 which explored the diversity of nat­ur­al wines, the CCNCN's new fest­ive event will bring people togeth­er around artis­an cider. It is an occa­sion to take the road less traveled and dis­cov­er new ciders, to go bey­ond the tra­di­tion­al dry vs sweet cider oppos­i­tion, and to par­take in ori­gin­al music­al and cho­reo­graph­ic per­form­ances. Two Bre­ton ciders and two Nor­mand ones will be on the menu, and par­ti­cipants will be invited to taste them and attend the per­form­ances that were inspired by these very ciders. The pro­ject is the story of people com­ing togeth­er and shar­ing exper­i­ences: wine and spir­its retail­er Mat­thieu Dorr, dan­cers Con­stance Diard and Elsa Dumon­tel, and musi­cians Annie Lan­glois, Nic­olas Marsanne and Adrien Mel­chi­or will bring you the product of their one-week res­id­ency around these four ciders, whose aromas, char­ac­ter and stor­ies will be trans­lated into per­form­ance. Dorr will cir­cu­late among the cider-tast­ing audi­ence to present the bever­ages that the per­formers will then present on stage.
+ More
Cast
Dan­cers Con­stance Diard, Elsa Dumontel
Musi­cians Annie Lan­glois, Nic­olas Marsanne, Adrien Melchior
Retail­er Mat­thieu Dorr
Dur­a­tion 1 heure
Pro­duc­tion centre choré­graph­ique nation­al de Caen en Normandie
Avec le sou­tien de la Drac Nor­man­die, dis­pos­i­tif Convivialité
Where and when
January 2023
19

ccn de Caen en Normandie 7:00 pm

20

ccn de Caen en Normandie 7:00 pm