CANCELLATION: As part of the mobilization against the pension reform, the public opening of Latifa Laâbissi and Antonia Baehr around their next creation "Colors and Numbers" will not take place on Thursday March 23 at 7 p.m.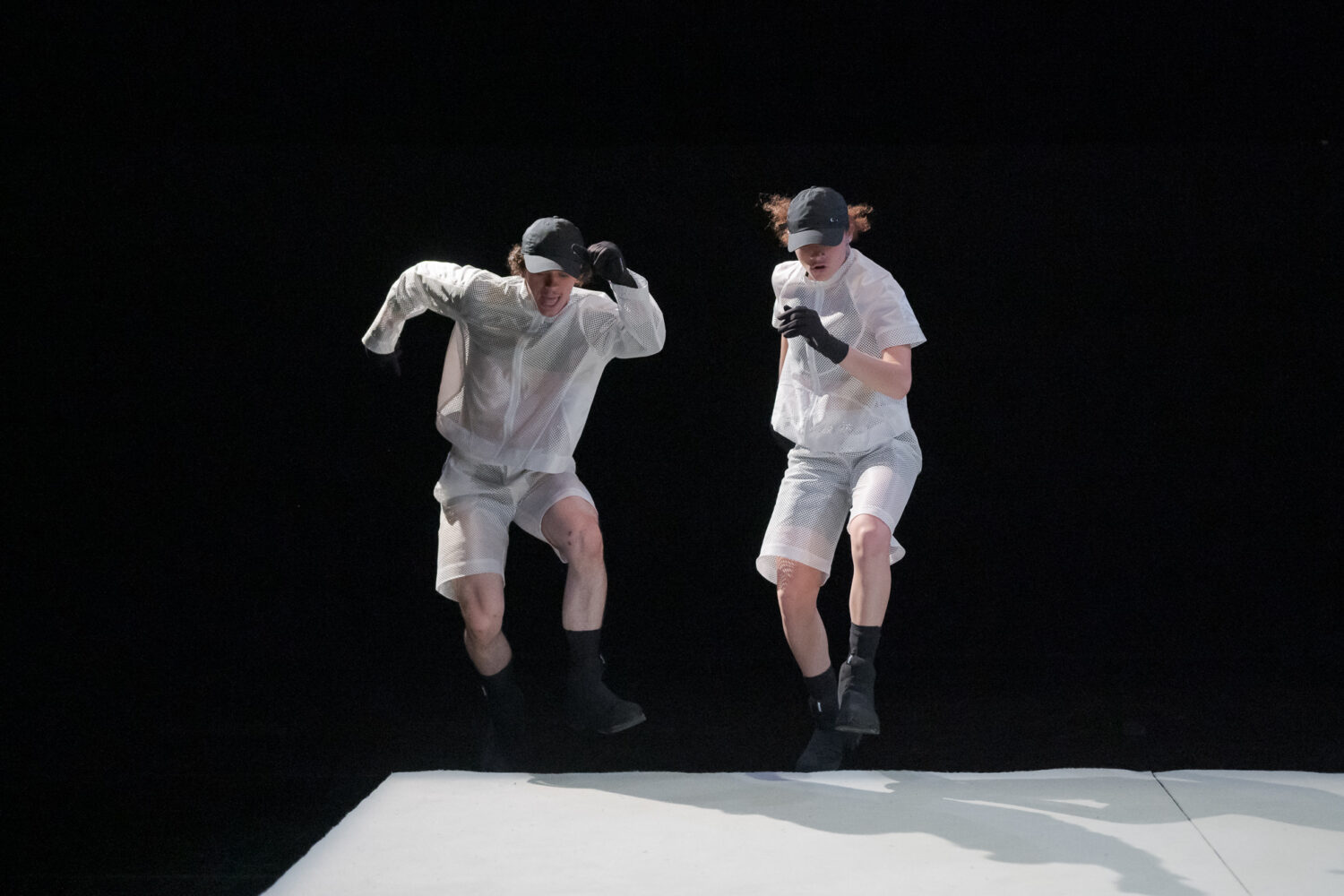 Fantasie minor
"Tout-terrain" collection
Above all, two dan­cers, who take over the stage as if they were con­quer­ing a vacant space. In all their heav­i­ness, they assume their con­tra­dic­tions in response to the sug­ges­tions of the twirl­ing notes of the music: bad-boy atti­tudes, bent backs, legs spread wide… These bod­ies are not to be trifled with. How­ever, it doesn't take much for the light­ness of Schubert's Fantasy in F minor to become a play­ground for these two per­formers exper­i­enced in urb­an dance. Pick­ing up the rhythm with twitch­ing shoulders or legs, but also launch­ing into a pas de deux that is equally fraternal and com­pet­it­ive, all in lifts, glissés, piqués and dis­tor­ted pointes… With cho­reo­graph­er Marco da Silva Fer­reira, the weight of the bod­ies, the weight of the music and the weight of the clas­sic­al or hip hop codes are lif­ted to offer new vari­ations, and invent a new space for shar­ing open to sens­ib­il­it­ies. From fra­gile attempts to vir­tu­oso absurdit­ies, anoth­er vis­ion of grace.
+ More
Cast
Con­cep­tion, cho­reo­graphy, lighting
Marco da Silva Ferreira
Per­formed by
Anka Post­ic, Chloé Robidoux
Sound design and creation
Rui Lima and Sér­gio Mar­tins, from "Fantas­ie in F minor" by Franz Schubert (Pian­ists : Lígia Madeira and Luís Duarte, Record and stu­dio mix : Suse Ribeiro)
Light­ing design
Marco da Silva Fer­reira, in col­lab­or­a­tion with Florent Beaur­uelle and Valentin Pasquet
Cos­tumes
Aleksandar Prot­ic
Cho­reo­graph­ic assistant
Elsa Dumon­tel
Tech­nic­al manager
Florent Beaur­uelle or Valentin Pasquet
Dur­a­tion
30 minutes
Exec­ut­ive pro­duc­tion Centre Choré­graph­ique Nation­al de Caen en Normandie
Co-pro­duc­tion Le Tri­dent, scène nationale de Cher­bourg-en-Cotentin, TANDEM Scène nationale, Cul­ture Com­mune, scène nationale du bassin min­i­er du Pas-de-Cal­ais, Espace 1789, scène con­ven­tion­née d'intérêt nation­al pour la danse de Saint-Ouen, Atelier de Par­is / CDCN, Con­seil départe­ment­al du Calvados
With the sup­port of Min­istère de la Cul­ture « dis­pos­i­tif Résid­ence d'Artiste asso­cié », DRAC Nor­man­die and Caisse des Dépôts
Stu­dio provided by La Bibi, Caen
Event organ­ised as part of the France-Por­tugal sea­son 2022
Where and when
Tour
September 2022
November 2022
January 2023
17
29

Le Triangle, Cité de la danse, Rennes, Festival Waterproof 4:00 pm
March 2023
11

Théâtre de Saint-Lô 8:30 pm
April 2023
01
29

23Milhas, Ílhavo (Portugal) (option) 12:00 am
May 2023
02
03
04
05
13

Place Belle Croix, Falaise, avec Chorège CDCN Falaise Normandie, Festival Danse de tous les Sens 6:00 pm

16
17

Potigny, avec Chorège CDCN Falaise Normandie, Festival Danse de tous les Sens 11:00 am

19

Pont-d'Ouilly, avec Chorège CDCN Falaise Normandie, Festival Danse de tous les Sens 6:00 pm
June 2023
03

Culture Commune, scène nationale du bassin minier du Pas-de-Calais 12:00 am

03

Culture Commune, scène nationale du bassin minier du Pas-de-Calais 12:00 am

09
10
11
Press
Télérama le 07/06/2022

(...) "Et le chorégraphe portugais Marco da Silva Ferreira – passionné de danses urbaines – ne pouvait sans doute rêver meilleurs personnages muets que les deux jeunes danseurs de Caen castés pour ce projet : Anka Postic et Chloé Robidoux dansent ensemble depuis l'enfance. Leurs corps ponctués d'afro-house, relevés à l'électro, au voguing ou à la capoeira s'amusent alors avec une aisance parfaite des postures clés du duo d'aventure, entre fraternité, compétition, provocation badass… De quoi faire de cette courte pièce abstraite, commande du Centre chorégraphique national de Caen, un étonnant buddy movie urbain." Eve Beauvallet

L'œil d'Olivier le 06/06/2022

(...) "Revisitée, dynamisée et customisée de sons techno, la partition du compositeur emblématique de la musique romantique allemande questionne le rapport du duo. Sont-ils frère et sœur, amis, amants ? À chacun de jouer sur ses imaginaires, à interpréter à sa guise mimétisme et variations. Les corps en transe, exténués mais heureux, Chloé Robidoux et Anka Postic ont conquis le public en portant haut la grammaire décalée, discordante parfois, démente surtout du chorégraphe portugais." Olivier Frégaville

Danses avec la plume le 13/06/2022

(...) "Au chapitre des découvertes éblouissantes de June Events, Marco da Silva Ferreira a présenté une pièce miniature à consommer comme une friandise. Le chorégraphe portugais qui monte fut artiste associé du Centre Chorégraphique National de Caen. Il est attendu au Festival d'Avignon en juillet  avec sa dernière création. Autodidacte, passionné de danses urbaines, Marco da Silva Ferreira a conçu un duo de poche sur une piste carrée de 4 mètres sur 4 pouvant s'installer aussi bien dans un théâtre qu'en extérieur. Fantasie Minor met en scène un duo épatant." Jean-Frédéric Saumont