CANCELLATION: As part of the mobilization against the pension reform, the public opening of Latifa Laâbissi and Antonia Baehr around their next creation "Colors and Numbers" will not take place on Thursday March 23 at 7 p.m.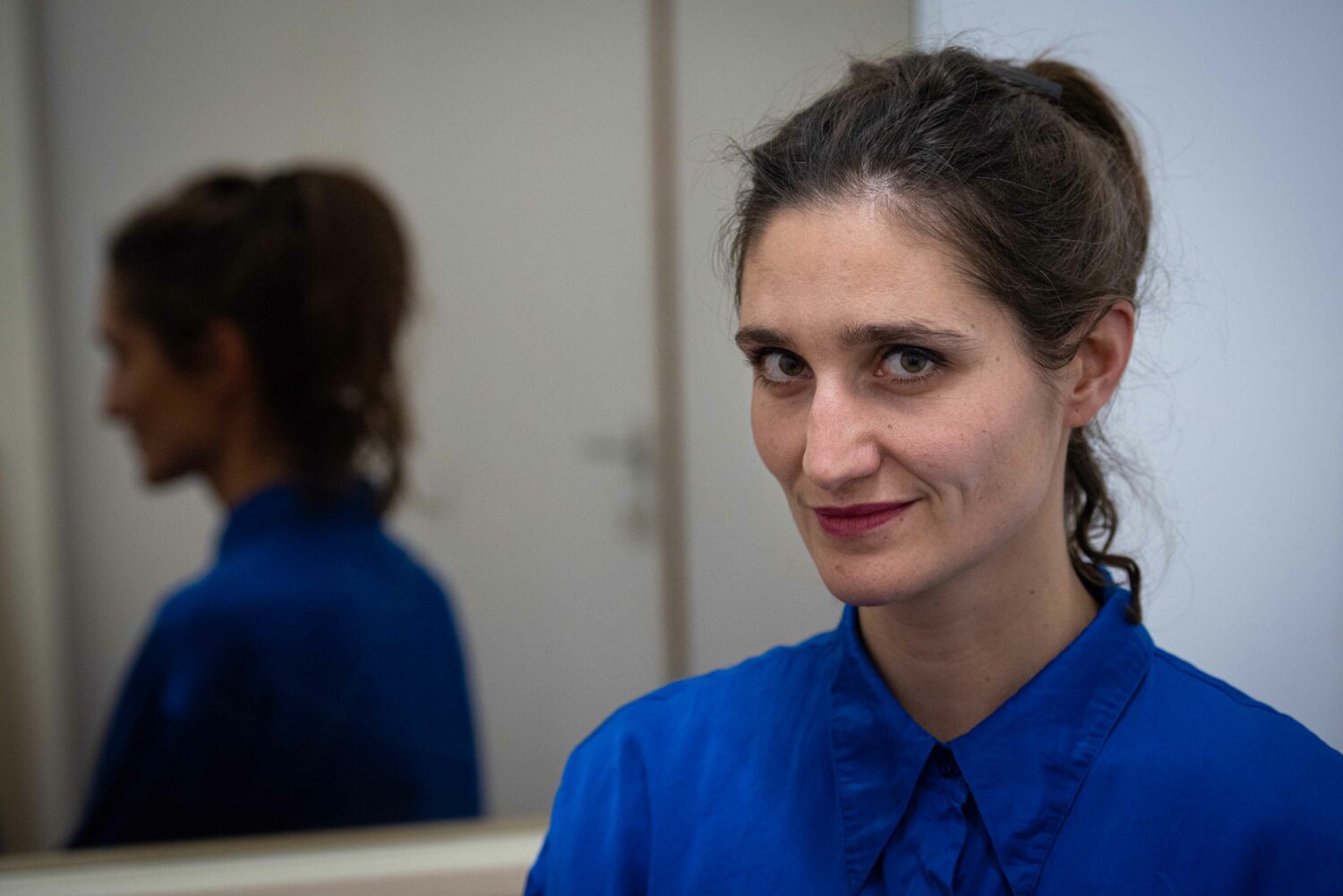 Flora Détraz
Public rehearsals
Flora Détraz's piece HURLULA com­poses a bust­ling sound­scape made of vari­ous screams, yells, shouts, and stud­ies their echoes in the move­ments of the bodies.

For her new piece, Flora Détraz con­tin­ues her explor­a­tion of the con­nec­tions between voice and move­ment; HURLULA is a pro­ject which revolves around the act of scream­ing, and it will take two dif­fer­ent forms – a con­cert-per­form­ance and a film which can be shown sim­ul­tan­eously as a dip­tych or sep­ar­ately. Scream­ing is a raw and spon­tan­eous mode of expres­sion, an over­flow­ing of the voice which can express a great num­ber of dif­fer­ent emo­tions, accord­ing to the cul­tures and con­texts. In HURLULA, Flora Détraz works on the artic­u­la­tion between inside and out­side; the title is a neo­lo­gism cre­ated from the verbs "hurl­er" and "hululer" (scream­ing and hoot­ing in French). A pre­par­at­ory research phase with sing­er Sofia Jern­berg has allowed Détraz to gath­er vocal mater­i­al to ima­gine a sound com­pos­i­tion com­bin­ing vari­ous types of screams, like a chaot­ic sound­scape in which the body is immersed. Flora Détraz focuses on the tech­nic­al and phys­ic­al tra­ject­ory of sound in the body and its reper­cus­sions on move­ment and emo­tions. Her dance is a dance of deform­a­tion, an over­flow­ing of voice on the body; influ­enced by the oneir­ism of exper­i­ment­al sur­real­ist cinema (from Jean Cocteau to Dav­id Lynch), the video pro­ject will use cinema tech­niques to explore the details of move­ment and the inscrip­tion of the body in nat­ur­al landscapes.
+ More
Cast
Con­cep­tion Flora Détraz
With Lê Quan-Ninh and Flora Détraz
Sound Claire Mahieux
Light design­er Arthur Gueydan
Sta­ging and cos­tumes Nadia Lauro
Advisor Justine Bougerol
Sound­ing board Yaw Tembe
Dur­a­tion 1 hour
Pro­duc­tion PLI
Cop­ro­duc­tion Fore­cast / Ber­lin — De, Mais­on de la danse / Lyon — Fr, La Bien­nale de Lyon / Lyon — Fr, Charleroi Danse — Centre choré­graph­ique de Wal­lonie-Bruxelles / Be, Pact-Zollver­ein /Essen — De, Réseau REM, A‑CDCN (Les Hivernales – CDCN d'Avignon, La Man­u­fac­ture – CDCN Nou­velle- Aquitaine Bor­deaux-La Rochelle, L'échangeur – CDCN Hauts-de-France, Le Dan­cing CDCN Dijon Bour­gogne-Fran­che-Comté, Chorège CDCN Fal­aise Nor­man­die, Le Paci­fique – CDCN Gren­oble – Auvergne – Rhône-Alpes, Touka Danses CDCN Guyane, Atelier de Par­is / CDCN, Le Gym­nase CDCN Roubaix – Hauts-de-France, POLE-SUD CDCN / Stras­bourg, La Place de la Danse – CDCN Toulouse /Occitanie, La Mais­on CDCN Uzès Gard Occit­an­ie, La Bri­queter­ie CDCN du Val-de-Marne) (FR); centre choré­graph­ique nation­al de Caen en Nor­man­die (accueil-stu­dio) — Fr, Teatro Viri­ato / Viseu — Pt, LUX Scène nationale de Valence ‑Fr (in progress)
Also sup­por­ted by Villa Alb­ertine — Res­id­ency in New-York, Ecrans Vivants — Onda, Mont­pel­li­er Danse /Montpellier — Fr, Ma scène nationale / Mont­béliard – Fr
Where and when
July 2023
20

ccn de Caen en Normandie 7:00 pm
Tickets
Limited seating – prior booking is advised