CANCELLATION: As part of the mobilization against the pension reform, the public opening of Latifa Laâbissi and Antonia Baehr around their next creation "Colors and Numbers" will not take place on Thursday March 23 at 7 p.m.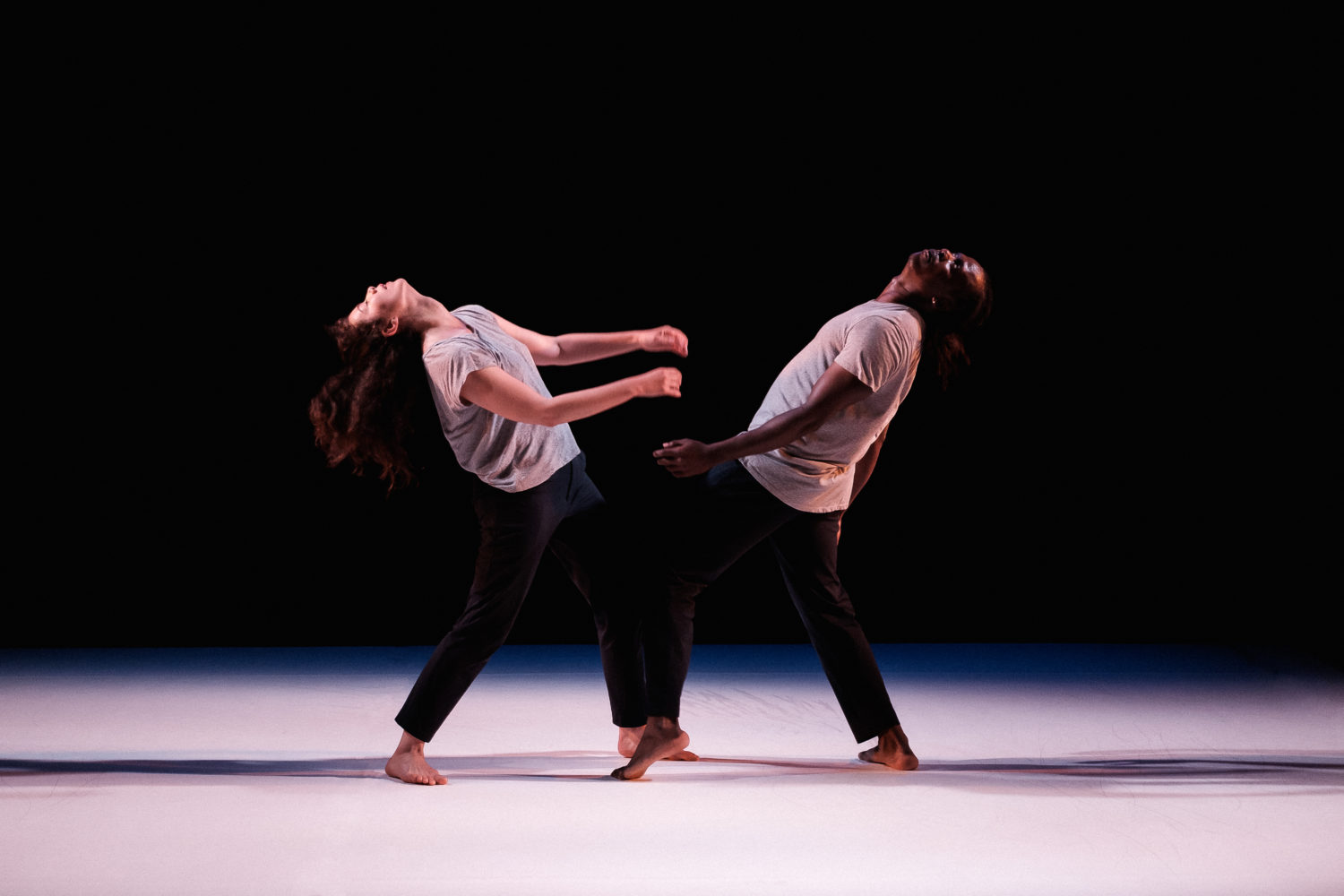 Impressions, nouvel accrochage
"Tout-terrain" collection
The power of images
Plunging into paint­ing to cre­ate dance… The cho­reo­graph­er Her­man Diephu­is, an expert in embody­ing images, which he draws from sources ran­ging from ancient paint­ing to pho­to­graphy, likes to cre­ate stor­ies by anim­at­ing bod­ies with an ever so del­ic­ate grace. This duet immerses the audi­ence in the mul­tiple pos­sib­il­it­ies that exist in a rela­tion­ship between two people. We wit­ness a couple under­go­ing mag­ni­fi­cent trans­form­a­tions, the beauty of their encounter so mas­ter­fully expressed by the per­formers through dif­fer­ences and complicity.
Just as Impres­sion­ist paint­ing broke away from the clas­sic­al rules of the Beaux-Arts, the two char­ac­ters start from an aca­dem­ic exist­ence to grav­it­ate, in small touches, towards more every­day real­it­ies. In the pro­cess, oth­er facets of the bond that unites them are revealed, along with oth­er pos­sib­il­it­ies for listen­ing to the oth­er and oth­er ener­gies. A jour­ney from the nine­teenth cen­tury to the present day, in which the clas­sic­al dance evolves into krump, and where even Debussy becomes electro!
+ More
Cast
Design, cho­reo­graphy
Her­man Diephuis
In col­lab­or­a­tion with
Mar­vin Clech, Mélanie Gif­fard and Yves Mwamba
Per­formed by
Mélanie Gif­fard, Yves Mwamba
Light­ing design
Cléo Konongo
Sound design
Pierre Boscheron
Tech­nic­al manager
Jérôme Houlès
Dur­a­tion
35 minutes
Exec­ut­ive pro­duc­tion Centre Choré­graph­ique Nation­al de Caen en Normandie
A cop­ro­duc­tion by Asso­ci­ation ONNO, Chorège / Fal­aise, Com­mun­auté d'Agglomération Mont-Saint-Michel Normandie
This pro­duc­tion bene­fit­ted from the Con­seil départe­ment­al de la Manche's "Artist res­id­ences in insti­tu­tions of artist­ic edu­ca­tion" scheme
Where and when
Tour
January 2023
February 2023
March 2023
May 2023
13

La Source, La Guéroulde [REPORT] 3:00 pm
June 2023
01

Château-d'Auvers-sur-Oise, Rendez-vous au Jardin [REPORT] 12:00 am
History
July 2019
11

Public Rehearsal - Espace danse, Falaise 6:30 pm
November 2019
15
16
24

La Source-La Guéroulde, avec l'Interco Normandie Sud-Eure [Annulé] 12:00 am

28
29

Musée de Vieux-la-Romaine, avec la Communauté de communes Vallées de l'Orne et de l'Odon 8:30 pm
January 2020
13

ccn de Caen en Normandie (représentation à destination des professionnel.le.s) 6:00 pm

14
July 2020
12

La Parenthèse, Avignon, La belle scène saint-denis [Annulé] 12:00 am

13

La Parenthèse, Avignon, La belle scène saint-denis [Annulé] 12:00 am

14

La Parenthèse, Avignon, La belle scène saint-denis [Annulé] 12:00 am

15

La Parenthèse, Avignon, La belle scène saint-denis [Annulé] 12:00 am

16

La Parenthèse, Avignon, La belle scène saint-denis [Annulé] 12:00 am

26
August 2020
01

Festival Lieux Mouvants [Reporté] 12:00 am
January 2021
14

Salle des fêtes, Isigny-sur-Mer [Reporté juin 2021] 7:30 pm

19

Salle polyvalente, Merville-Franceville [Reporté juin 2021] 7:30 pm

20

Salle des fêtes, Aunay-sur-Odon [Reporté juin 2021] 7:30 pm

26

Bibliothèque Universitaire, Le Havre, Festival Pharenheit, avec Le Phare, CCN du Havre Normandie [Reporté juillet 2021] 6:30 pm

27

Salle des fêtes, Saint-Germain-du-Crioult [Reporté juin 2021] 8:30 pm

28
29
30
April 2021
09

Salle Robert Métairie, Le Hom [Reporté juin 2021] 8:30 pm

10

Salle des fêtes, Evrecy [Reporté juin 2021] 8:45 pm

13

Maison de l'Université de Rouen Normandie, Mont-Saint-Aignan [Représentation à destination des professionnel.le.s] [Reporté mai 2021] 3:30 pm

15
May 2021
18

Falaise, Festival Danse de tous les Sens [Annulé] 2:00 pm

18

Falaise, Festival Danse de tous les Sens [Annulé] 8:00 pm

21

Amphithéâtre du Lycée Jean Rostand de Villepinte, avec le Théâtre Louis Aragon, scène conventionnée danse de Tremblay-en-France 5:00 pm

27
28
June 2021
22

Place Charles de Gaulle, Villers-Bocage [Report du 20.01.21] 6:00 pm

24

Place Camille Blaizot, Merville-Franceville [Report du 19.01.21] 6:00 pm

25

Parc du Château de Thury-Harcourt, Le Hom [Report du 09.04.21] 6:00 pm

26

Cour de la Maison des Associations rue de la Cabottière, Evrecy [Report du 10.04.21] 6:00 pm

29

devant la Salle des Fêtes, Saint-Germain-du-Crioult [Report du 27.01.21] 6:00 pm
July 2021
01

devant l'Hôtel de Ville, Isigny-sur-mer [Report du 14.01.21] 6:00 pm

02

Espace culturel, Les Pieux, La Manche met les Villes en scène [Report du 15.04.21] 8:30 pm

03
07
08
09
10
11
April 2022
09

Théâtre Louis Aragon, scène conventionnée d'intérêt national Art et création danse de Tremblay-en-France [Annulé] 7:00 pm
May 2022
14

La Source, La Guéroulde [Annulé] 3:00 pm
June 2022
05

Château-d'Auvers, Rendez-vous au Jardin [Annulé] 4:00 pm