CANCELLATION: As part of the mobilization against the pension reform, the public opening of Latifa Laâbissi and Antonia Baehr around their next creation "Colors and Numbers" will not take place on Thursday March 23 at 7 p.m.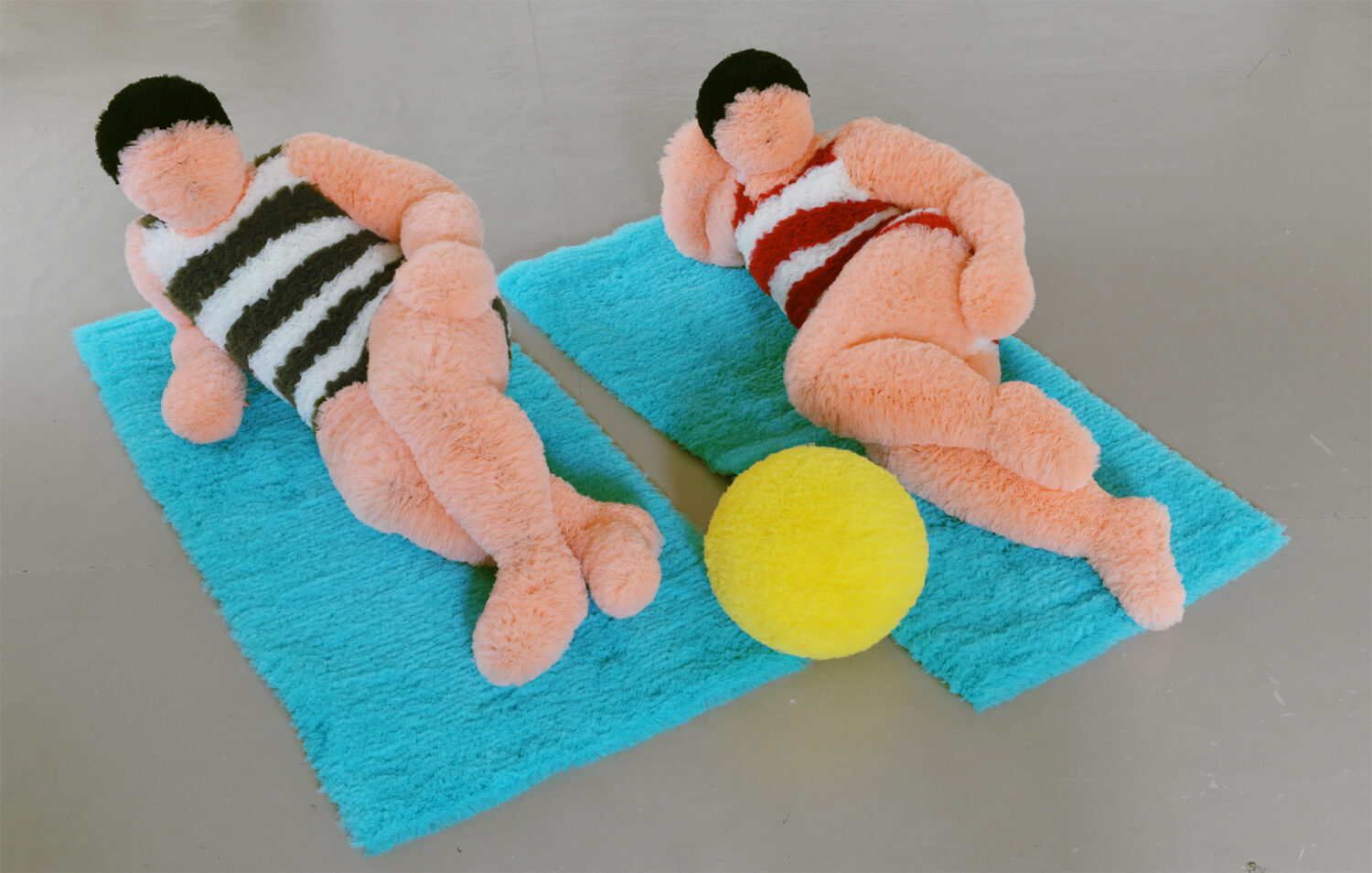 Les Baigneurs (Bathers)
Shows - installations
At once a mov­ing sculp­ture, a del­ic­ate per­form­ance and a slow cho­reo­graphy, Les Baigneurs (Bathers) infuses space with poetry and oneir­ic ges­tures – anoth­er pace and oth­er col­ors in the atmo­sphere of an ideal summer.
Under the Fal­aise sky, Yvan Clédat and Coco Petit­pi­erre draw inspir­a­tion from bathers, often rep­res­en­ted in mod­ern paint­ing from Picas­so to Léger, for a peace­ful and dreamy per­form­ance in the Danse de tous les Sens fest­iv­al. Hid­den in sur­pris­ing and col­or­ful pleated tulle cos­tumes in soft hues, the "fusion­al duo of artists" embody two big dolls wear­ing striped bathing cos­tumes that wander slowly in the pub­lic space, engrossed in the enjoy­ment of the pleas­ures of sum­mer. Sun­bathing, loun­ging, play­ing and embra­cing each oth­er, the two char­ac­ters play famil­i­ar sea­side scenes that appear as a series of images, with two sea-blue beach tow­els and a sun-yel­low ball as props. The duo explores slowly this con­densed world, a primary and child­like con­voc­a­tion of an oneir­ic uni­verse whose slow rhythm con­trasts with the urb­an hustle and bustle. Ever since it premiered in 2017 on the banks of Lake Geneva, Les Baigneurs has been reprised on sev­er­al occa­sions in vari­ous coun­tries, in a myri­ad sin­gu­lar and unique moments.
+ More
Cast
Con­ceived, dir­ec­ted and per­formed by Yvan Cléd­at and Coco Petitpierre
Dur­a­tion 60 minutes
Pro­duc­tion lebeau et associés
Cop­ro­duc­tion far° fest­iv­al des arts vivants Nyon, musée du Léman à Nyon (CH)
Partnerships
With Chorège CDCN Fal­aise Nor­man­die, Fest­iv­al Danse de tous les Sens

Where and when
May 2023
13

à Falaise, en plein air 12:00 pm