CANCELLATION: As part of the mobilization against the pension reform, the public opening of Latifa Laâbissi and Antonia Baehr around their next creation "Colors and Numbers" will not take place on Thursday March 23 at 7 p.m.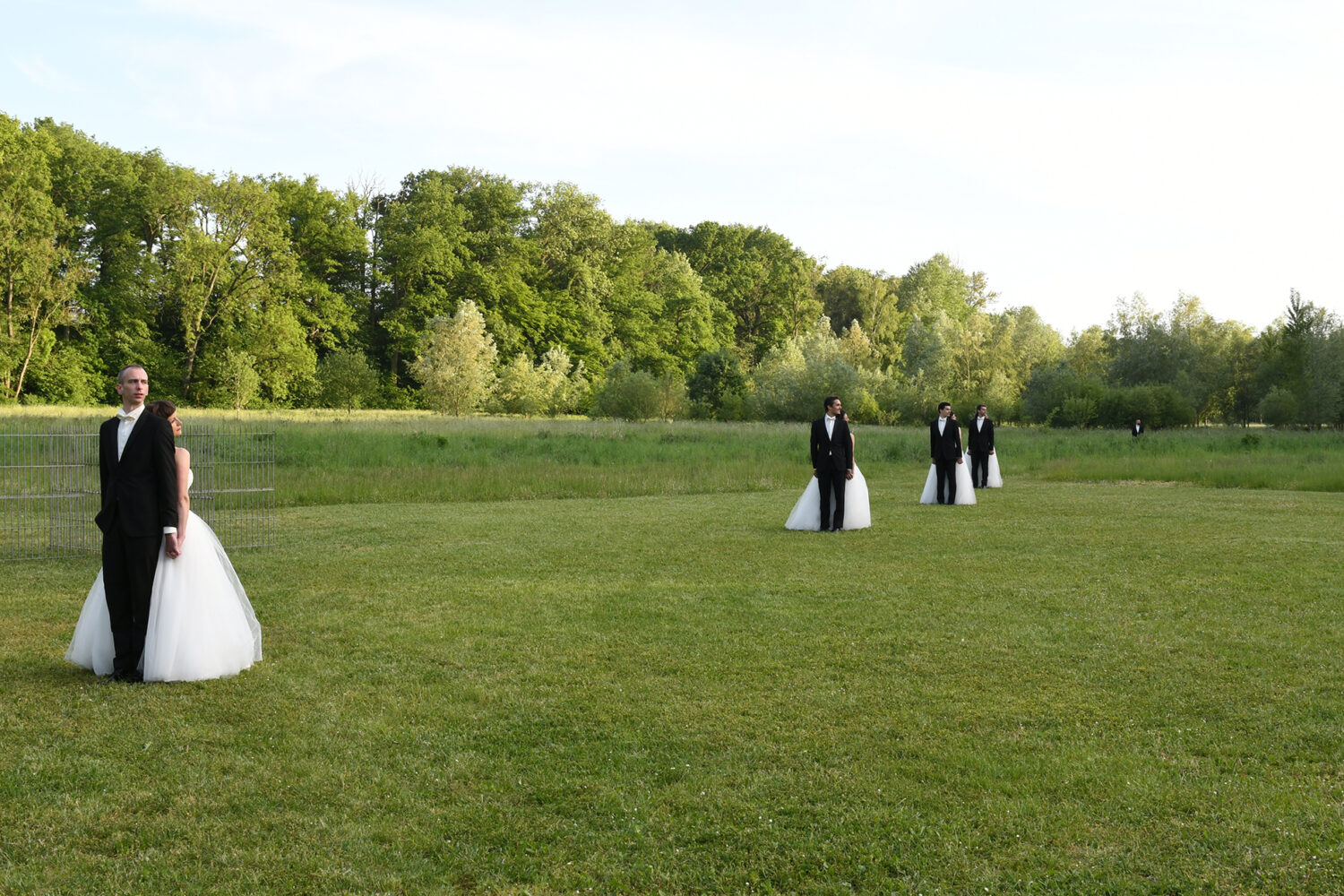 Les Mariés, même (Bride and Groom, Same)
Shows - installations
In a park, five new­ly­wed pairs wander around wear­ing tuxedos and white dresses and pos­ing for an invis­ible pho­to­graph­er. A piece which sub­verts the codes of wed­ding pho­to­graphy in a sur­pris­ing performance.
It is a quite usu­al sight on a beau­ti­ful Spring day – some­thing each of us has seen or even been part of before: a newly mar­ried couple wanders around a park pos­ing for a pho­to­graph­er whose lens is meant to cap­ture either can­did shots of the wan­der­ing pair or more staged ones. How­ever, see­ing five couples pose their way around the park for an absent pho­to­graph­er is unusu­al and cap­tures the audience's atten­tion. This is the concept behind Yvan Cléd­at and Coco Petitpierre's humor­ous piece Les Mar­iés, même which sub­verts the famil­i­ar codes of wed­ding pho­to­graphy and will be per­formed in Fal­aise for the Danse de tous les Sens fest­iv­al. It is as if the new­ly­weds on the wed­ding cake were com­ing to life in the park; in per­fect uni­son, the pairs go through the ritu­al of pos­ing for "nat­ur­al" shots and stay in their poses for an invis­ible pho­to­graph­er, under the watch­ful (and amused) eye of the spec­tat­ors wan­der­ing around. A quirky and poet­ic per­form­ance which is part of Clédat & Petitpierre's work on codes and archetypes.
+ More
Cast
Concept, cho­reo­graphy Yvan Cléd­at and Coco Petitpierre
With (cast will vary) Max Fossati, Célia Gon­dol, Sylvain Rié­jou, Lotus Edde-Khouri, Massimo Fusco, Cam­ille Cau, Bas­tien Lefèvre, Laurie Giord­ano, Mat­thieu Coulon-Faude­mer, Céline Debyser, Mélanie Cho­let, Sylvain Prunenec, Pau­line Simon, Nic­olas Chaigneau, Céline Angibaud, Edou­ard Pelleray, Robin Ber­thet, Simon Tan­guy, Jean-Chris­tophe Maas, Fanny Par­is, Mar­ie Houd­in, Vanessa Neira, Mar­zena Krzeminska
Dur­a­tion 90 mn
Pro­duc­tion lebeau et associés
Cop­ro­duc­tion Parc cul­turel de Rentilly
Partnerships
With Chorège CDCN Fal­aise Nor­man­die, Fest­iv­al Danse de tous les Sens

Where and when
May 2023
18

Parc du château de la Fresnaye, Falaise 5:00 pm