CANCELLATION: As part of the mobilization against the pension reform, the public opening of Latifa Laâbissi and Antonia Baehr around their next creation "Colors and Numbers" will not take place on Thursday March 23 at 7 p.m.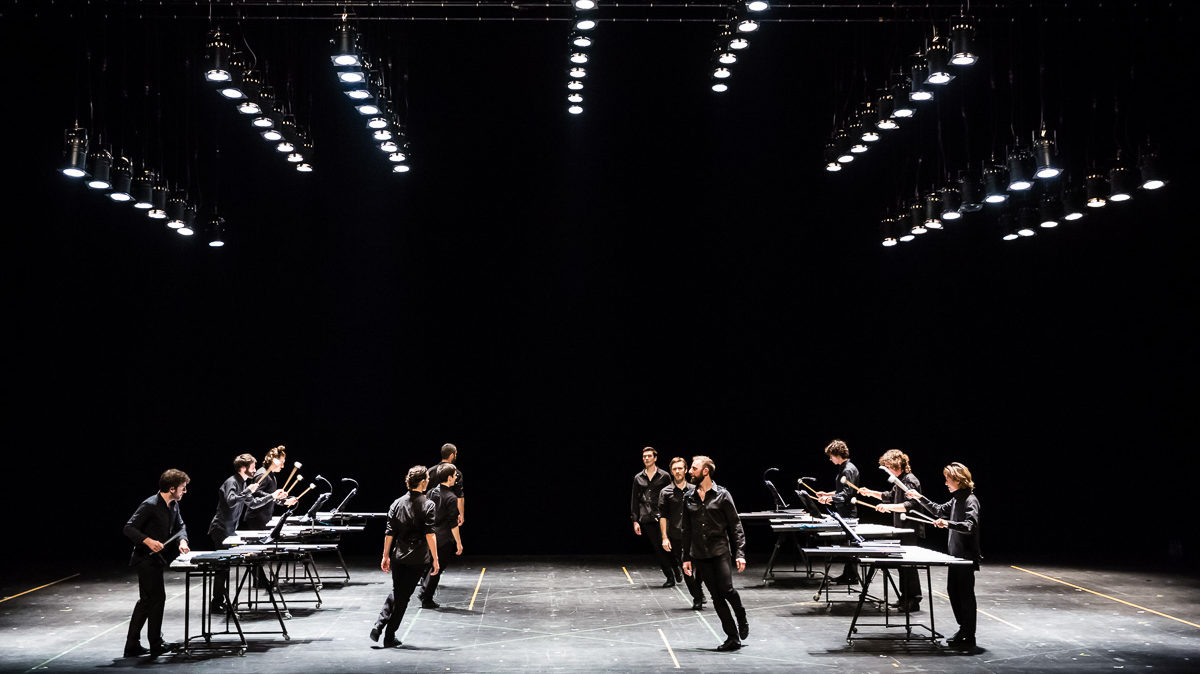 Pléiades
Pléiades, a concert of music and dance
Past seasons
Com­posed by Ian­nis Xena­kis, Pléi­ades was ori­gin­ally a com­mis­sion from the City of Stras­bourg in 1979 for the Per­cus­sions de Stras­bourg and the Bal­let du Rhin. Hav­ing now become a key ref­er­ence in con­tem­por­ary music, the work has been per­formed in con­cert all over the world, how­ever los­ing its cho­reo­graph­ic voca­tion along the way. Alban Richard wished to revive this ori­gin­al link with dance by cre­at­ing a "music and dance con­cert" that brings togeth­er six dan­cers and six per­cus­sion­ists on stage. Con­ceived as a danced con­cert, each music­al sec­tion gives rise to a spe­cif­ic spa­tial­isa­tion of per­cus­sion on stage, recon­fig­ur­ing the space of dan­cers and musi­cians towards a pro­gress­ive fusion between music and dance.
+ More
Cast
Devised and cho­reo­graphed by
Alban Richard
Per­formers
Céline Angibaud or Yan­nick Hug­ron, Mélanie Cho­let, Max Fossati, Massimo Fusco, Laurie Giord­ano, Kev­in Jean
Light­ing design
Valérie Sig­ward
Music
Pléi­ades by Ian­nis Xena­kis (©Edi­tions Salabert S.A.)
Com­mis­sioned by: City of Stras­bourg – World premiere on 3 May 1979 in Mul­house, with the Bal­let du Rhin – Ded­ic­atee: Les Per­cus­sions de Strasbourg
Musi­cians
Les Per­cus­sions de Strasbourg
Alex­an­dre Esper­et, Sébas­tien Her­vi­er, Minh-Tâm Nguy­en, François Papirer, Gald­ric Subirana, Thibaut Weber
Cos­tume designer
Cor­ine Petitpierre
Con­sult­ant for the func­tion­al ana­lys­is of the body in the danced movement
Nath­alie Schulmann
Light­ing operator
Nic­olas Bordes
Stage man­ager
Laurent Fournaise
Instru­ment manager
Sébas­tien Bruvi­er or Vin­cent Gropengiesser
Dur­a­tion
1 hour
Spe­cial thanks to Arnaud Cabi­as, Franck Madlen­er, Céline Chouffot, Martha Moore, Céline Angibaud
For their loan of a stu­dio at La Ména­ger­ie de Verre under the Stu­diolab scheme, thanks to the Centre Nation­al de la Danse, the CDC Atelier de Par­is – Car­o­lyn Carlson and Pôle Sud, scène con­ven­tion­née pour la danse et la musique de Strasbourg.
Exec­ut­ive pro­duced by the Centre choré­graph­ique nation­al de Caen en Normandie.
Co-pro­duced by Ensemble L'Abrupt, Fest­iv­al Mont­pel­li­er Danse 2011 dur­ing a cre­at­ive res­id­ency at Agora cité inter­na­tionale de la danse, Arcadi Ile de-France, Arsen­al de Metz, Les Per­cus­sions de Stras­bourg, the Théâtre Louis Aragon-scène con­ven­tion­née danse de Tremblay-en-France, Scène nationale d'Orléans, Centre choré­graph­ique nation­al de Fran­che-Comté à Belfort (stu­dio scheme), Centre choré­graph­ique nation­al de Caen/­Basse-Nor­man­die (stu­dio scheme).
With the sup­port of Adami (French soci­ety for the col­lect­ive admin­is­tra­tion of per­formers' rights) and the Con­seil général de la Seine-Saint-Denis.
Les Per­cus­sions de Stras­bourg receive the con­stant and faith­ful sup­port of the Min­istry for Cul­ture and Com­mu­nic­a­tion / Grand Est Region­al Dir­ect­or­ate, the City of Stras­bourg, Mécén­at Music­al Société Générale, Région Grand Est, Con­seil départe­ment­al du Bas-Rhin, SACEM, SPEDIDAM, ADAMI, the Français Insti­tute, Bur­eau Export de la Music française
History
June 2011
24

CRÉATION - l'Agora, Cité internationale de la danse - Festival Montpellier Danse 12:00 am
October 2011
01

Théâtre Louis Aragon – scène conventionnée, Tremblay-en-France 12:00 am

14

Espace 1789, Saint-Ouen 12:00 am

15

Espace 1789, Saint-Ouen 12:00 am
November 2011
18

Théâtre National, Nice - Festival Manca 12:00 am
December 2011
13

Théâtre de Saint-Quentin-en-Yvelines – scène nationale 12:00 am

14

Théâtre de Saint-Quentin-en-Yvelines – scène nationale 12:00 am
January 2012
05

Théâtre d'Orléans – scène nationale 12:00 am
February 2012
07

Théâtre Paul Eluard (tpe) – scène conventionnée, Bezons 12:00 am

10

Le Forum - scène conventionnée, Le Blanc-Mesnil 12:00 am

29

l'Arsenal, Metz 12:00 am
April 2012
03

Les Quinconces-L'espal – scène conventionnée danse, Le Mans 12:00 am
May 2012
11

Les Treize Arches – scène conventionnée, Brive 12:00 am
July 2012
09

Rabozaal, Amsterdam (NL) Julidans 12:00 am
October 2012
25

Pôle Sud – scène conventionnée danse, Strasbourg 12:00 am
February 2013
13

Théâtre National de Chaillot, Paris 12:00 am

14

Théâtre National de Chaillot, Paris 12:00 am

15

Théâtre National de Chaillot, Paris 12:00 am
June 2014
24

Amphithéâtre, Châteauvallon - Festival de Musique de Toulon Provence Méditerranée 12:00 am
March 2017
03

théâtre de Caen 8:00 pm

04

théâtre de Caen 8:00 pm

17

Maison de la Musique, Nanterre 8:30 pm
April 2017
05

Théâtre de Lorient - CDN 8:00 pm
Press
maculture.fr le 20/03/2017

"Pléiades est une véritable machine chorégraphique, extrêmement bien huilée, portée par l'énergie d'une musique quasi enivrante. L'écriture d'Alban Richard s'adosse ici sur le rythme intensif de la musique de Xenakis. Les six danseurs vont se déployer dans l'espace, au service d'une partition chorégraphique aux motifs spiralés et circulaire. Composés principalement de marches et de courses collectives, les déplacements géométriques sont ponctués par de courts soli labiles des danseurs. Les gestes volent ici en éclat aux rythmes des percutions, au grand plaisir des interprètes qui semblent être habités par la musique."

Wilson Le Personnic

performArts.net le 05/01/2012

« […] Dans Pléiades, Iannis Xenakis recourt aussi à des processus de duplication simultanée et différée, identique et déformée, multipliée et variée. Composée en 1979, cette pièce emblématique de la musique contemporaine a depuis souvent été jouée en concert à travers le monde. En fusionnant musique et danse au Théâtre National de Nice, Pléiades a ajouté sa vocation chorégraphique perdue. Une organisation rythmique prodigieuse qui entraine l'auditeur-spectateur dans un tourbillon sonore et visuel, six danseurs et six percussionnistes se partagent la scène. Une nouvelle chorégraphie d'Alban Richard les a obligés à cohabiter dans un décor mouvant. Moment fort du Festival, cette œuvre intense, très organique et tellurique, a magistralement été interprétée par Les Percussions de Strasbourg. La composition dégage des sonorités évoquant le gamelan balinais, les carillons d'églises, les cloches de vaches et autres, qui suggèrent d'ancestrales danses rituelles exotiques. Ce sont les pas saccadés d'un danseur qui semblent enclencher le rythme des instruments avec des couleurs sonores homogènes dans une puissance palpitante et hypnotique. Mort il y a tout juste dix ans, Iannis Xenakis se voulut un penseur libre. Libre comme résistant politique, libre comme compositeur, libre de jeter un pavé dans la doctrine sérialiste, libre de réaliser une musique gouvernée par sa nature énergétique. Pionnier de l'électro-acoustique, il a aussi été l'un des premiers à utiliser l'ordinateur pour le calcul de la forme musicale. Le mot Pléiades signifie plusieurs, en référence à une multitude d'étoiles composant la constellation brumeuse dont six seulement sont visibles, le même nom était donné dans l'Antiquité à un groupe de poètes dont six aussi ont particulièrement émergé. […] »

Caroline Boudet-Lefort

Danser le 12/12/2011

« Les Percussions de Strasbourg jouent d'abord l'une des quatre parties de Pléiades, composé pour cet ensemble par Xenakis en 1979. Suit une section dans le silence pour six danseurs, avant que la chorégraphie, surtout tramée de marches et de courses, et la musique, ne se mêlent sur les trois autres parties. Dans un espace reconfiguré plusieurs fois, Alban Richard bâtit une solide architecture, hypnotique, sérieuse et ludique à la fois. Croisées, décroisées, enroulées, dévidées, les trajectoires des danseurs fascinent par leur savante composition. »

Michel Barthome