CANCELLATION: As part of the mobilization against the pension reform, the public opening of Latifa Laâbissi and Antonia Baehr around their next creation "Colors and Numbers" will not take place on Thursday March 23 at 7 p.m.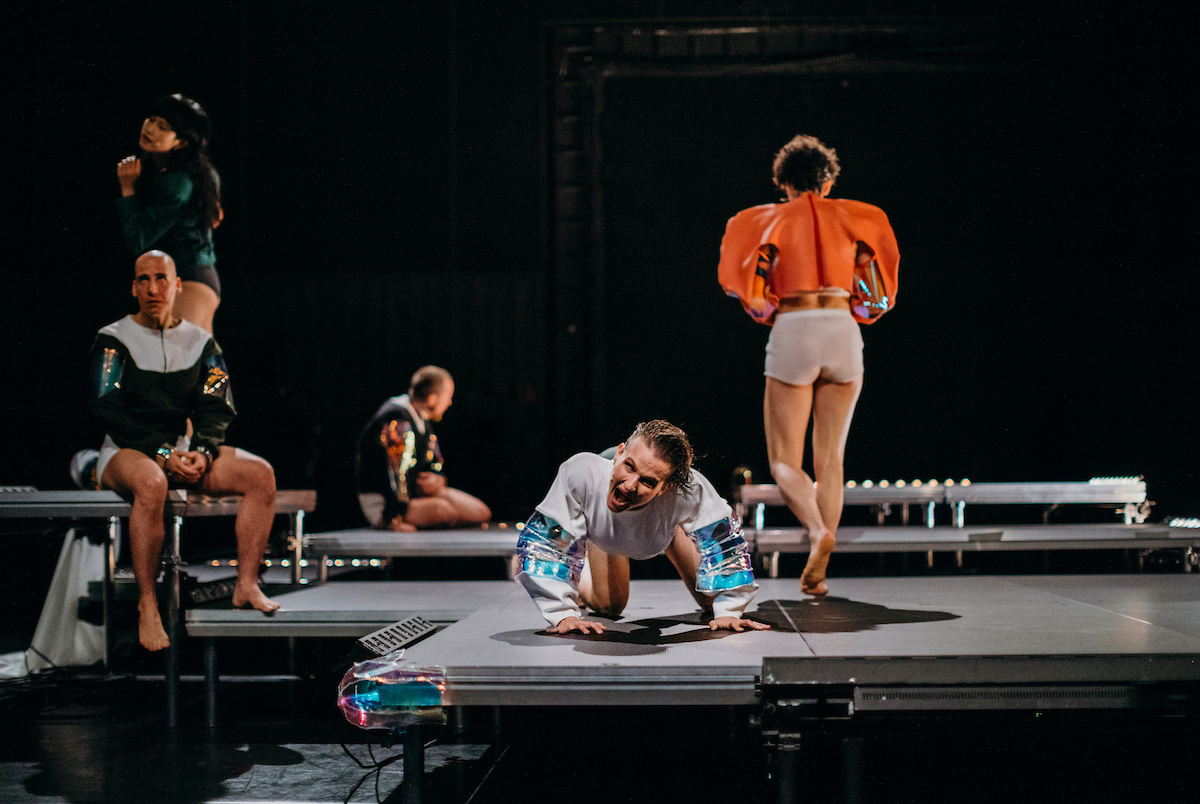 the departed Heart
Work commissioned from the Norwegian company Carte Blanche
Commissioned work
Echo Flux is a double-bill pro­gramme pro­posed by Carte Blanche, the Nor­we­gi­an nation­al con­tem­por­ary dance com­pany, and based on the encounter between a cho­reo­graph­er and a com­poser. In the first part, the cho­reo­graph­er Alban Richard, is asso­ci­ated with the Franco-Argen­tinean com­poser Sebasti­an Rivas and the cos­tume design­er Rachel Gar­cia for the depar­ted Heart, a highly mel­an­chol­ic piece in which the dan­cers' breath is trans­formed, in real time, into violas da gamba.
It is fol­lowed by Prim­al by the Argen­tine cho­reo­graph­er Ayelen Parolin and the French com­poser Ezra. Sámi rituals and beat­box­ing are the basis of this ener­get­ic piece that plunges the dan­cers into a search for their shamans.
+ More
Cast
Con­cep­tion, choreography
Alban Richard
Ori­gin­al score
Sebasti­an Rivas
With the dan­cer-per­formers of Carte Blanche – the Nor­we­gi­an nation­al con­tem­por­ary dance company
Adri­an Bartz­cak, Car­oline Eckly, Daniel Marib­lanca, Aslak Aune Nygård, Tilly Sordat
Cho­reo­graph­ic assistant
Daph­né Mauger
Cos­tumes
Rachel Gar­cia
Light­ing design
Alban Richard and Robert Roespel
Sound assist­ant
Max Bruck­ert
Dur­a­tion
35 minutes
the depar­ted Heart is part of the Echo Flux double pro­gramme with Prim­al by the cho­reo­graph­er Ayelen Parolin and the com­poser Ezra.
Pro­duc­tion Carte Blanche (NO)
Co-pro­duc­tion Ber­gen Inter­na­tion­al Fest­iv­al 2019, Grame – Centre Nation­al de Créa­tion Musicale, Centre Choré­graph­ique Nation­al de Caen en Normandie